Alan Friedman has appeared in numerous trade and fashion magazines and
he is legendary for fancy color diamonds, pinks in particular. The ring
in the above photo contains a Fancy Intense Blue diamond of 1.21 carat,
VVS2 clarity, surrounded by 25 Fancy Intense Pink round and 205 white
rounds, all in platinum and 18K yellow. Wonderful pieces.
---

Some of the nicest antique and vintage jewelry on Ebay.
---


Contemporary art jewelry, handcrafted by goldsmith and jewelry designer Michael S. Cox.
---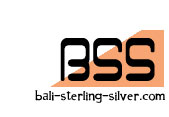 Zack Silver (ROF SILVER) is an online business unit division of Suarti Silver, a
manufacturer and exporter of sterling silver jewelry in Bali. First founded in
1978 by Desak Nyoman Suarti, Suarti Silver has since then been exporting handmade
and cast silver jewelry to countries all over the world.
---
http://bmstudiosilver.tripod.com
Handmade or handcrafted silver jewelry crafted in
Kentucky. Cabochon rings, elegant pendants, necklaces
and unique bracelets with natural gemstones.
---

Chard - A United Kingdom jeweler specializing in design and creation of diamond rings,
fancy colored and colorless diamonds, high quality gold jewelry, buying and selling
jewelry and gold sovereigns, krugerrands and other coins... Fun site to browse around!
---

Celtic Jewelry - Diamond engagement Rings, sterling silver crosses, celtic knotwork motifs & more
---

Amazing Celtic wedding rings
http://www.celtic-weddingrings.com/
Visit www.celtic-weddingrings.com - Celtic knot, claddagh, designs based on ancient images, etc. According to the
website: "The engraving around the [above pendant's] border in large beautiful script is 'GRA DILSEACHT CAIR'
which means "Faithful Love & Friendship", giving meaning to the Trinity knot in the heart of this glamorous design."

---

Claddaughtstore.com
---


This site discusses many of the fancy colors seen in the Aurora Collection.
---
Creator Jewellery
Beautiful sterling silver jewellery designed by Jess Barnes.
---


One of the internet's largest selections of pink, yellow, blue, green,
black, gray, brown and orange colored diamonds, each of which can be viewed
by an authentic digital picture. Stones in sizes from several points to
several carats or more, depending on when you visit the site. See related
site Fancycolordiamonds.net below, too.
---
Wholesale Diamonds from Diamond Experts - Wholesale diamonds, loose diamonds, engagement rings and more
---

An English/French language website dealing in colorless
and fancy color diamonds and discussing the diamond industry
---

Assorted CZ jewelry
---

Fay Cullen - antique and vintage jewelry. Really nice site with lots of photos.
Above ring contains a 2.01-carat Old Mine cut Fancy Intense Yellow diamond,
with an Old European cut diamond on either side.
---

Fancycolordiamonds.net by Ishay Ben David Corp. A spectacular group of fancy color
diamonds, many of them loose, including a handful of 'chameleon' and Fancy Gray
diamonds. They also have an inventory of impressive finished jewelry.
---
Peruvian Jewelry - Handcrafted jewelry at low prices.
We sell necklaces, earrings, rings and bracelets.
We're sure you'll love our jewelry http://www.incazone.com
---

This isn't jewelry-related but it is art, and I thought it was interesting enough to feature here.
---

Celtic wedding rings - The best prices for exquisitely
handcrafted Celtic wedding bands and diamond engagement rings,
inspired by history and produced in the heart of Dublin.
---
www.johngreedjewellery.co.uk
Contemporary jewellery shop, mens jewellery, titanium rings, Pandora and Storm jewellery. U.K.
---


A graduation gift that is personal, original, meaningful, powerful and always appropriate!
---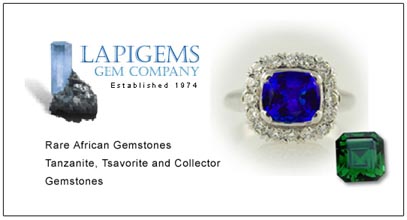 Lapigems Gem Company, based in Nairobi, Kenya. Dealers in loose and mounted colored gems (tanzanite, tourmaline, tsavorite garnet, malaia garnet, etc.)
---

Leibish & Co., fancy color diamond vendor. Lots of
examples of every color, including the more valuable colors like pinks, blues
and greens and unusual gems like violets, whites (translucent milky white), etc.
---

The Lizzadro Museum of Lapidary Art, in Elmhurst, Illinois, just outside Chicago.
It is one of the most important museums on this topic in the United States and houses
over 200 important antique jade and amber carvings, a number of them over 500 years old.
---
Martin Flyer
www.martinflyer.com
---
---

Scott Suchor's website. Scott published several sets of cutting instructions for famous diamonds in Lapidary Journal magazine, and was also a part of the Discovery Channel TV special on the Hope Diamond and the tracing of its origins. They are the most accurate famous diamond replicas on the known market. Aside from the more modern famous diamonds we're all familiar with, Scott has tackled a number of ancient non-symmetric stones, many of which are featured on the site, such as the Florentine, above. Left stone is modeled after a photo circa 1900 of the Florentine, set in a hat pin, and described by Herbert Tillander. The right stone is modeled after a line drawing by Jean Baptiste Tavernier. Photo by Fred Ward. Scott also does custom gem cutting.
---
Amethyst's Origins, History, Legends and Myths
Everything you could ever want to know about Amethyst!
---

Olufson Designs 215 SW 2nd Street, Corvallis, Oregon 97333
Very nice store, large space and well lit. Very strong in just about every category. I love the large
colored gems. At the time of writing this there was a roval (sort of round, sort of oval) blue sapphire
weighing about 9.30 carats with very, very fine color, in the case on display. Lots of loose colored gems on
display, and diamonds as well. The shop is known for its engraving (see above photo). Laser welding available.
---


Tutorial on diamond buying; also reviews a number of the more notable loose diamond merchant websites. Get the insights and educational resources on diamond carat weight that will help you choose that perfect stone.
---

Naturally Colored, formerly Peled Diamonds, is a registered diamond dealer and manufacturer specializing in
natural fancy color diamonds. For free consultation and colored diamonds at wholesale prices visit their online store.
---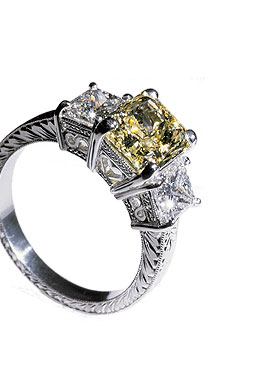 Renaissance Platinum ... Fine engraved platinum rings, good photography too
---
---

Seren Diamonds - A wide range of loose fancy color diamonds, GIA certified diamonds and exquisite diamond jewelry
The above earrings center on a pear-shaped diamond 2.01 carats, Fancy Brownish Purplish Pink; the other a 1.65-carat Fancy Intense Yellow.
---
3 Stone Diamond Rings Online retailer of 3 stone diamond rings and diamond jewellery. All enquiries are welcome.
We supply a wide range of stunning designs, all delivered fully insured and packaged for free.
---
Silver Jewelry - Free shipping! 60-day returns and exchanges! 9000 products online!

925 Joyería de la Plata Esterlina
¡9.000 joyas y regalos de la plata esterlinas en línea para hombres, las mujeres y los niños! Importado de 9 países y enviado mundial. Los regresos y cambia
---
Discount jewellery
The Shop offers a handpicked collection of the very best in affordable cutting
edge discount jewellery. Visit for unique jewellery at affordable prices.
---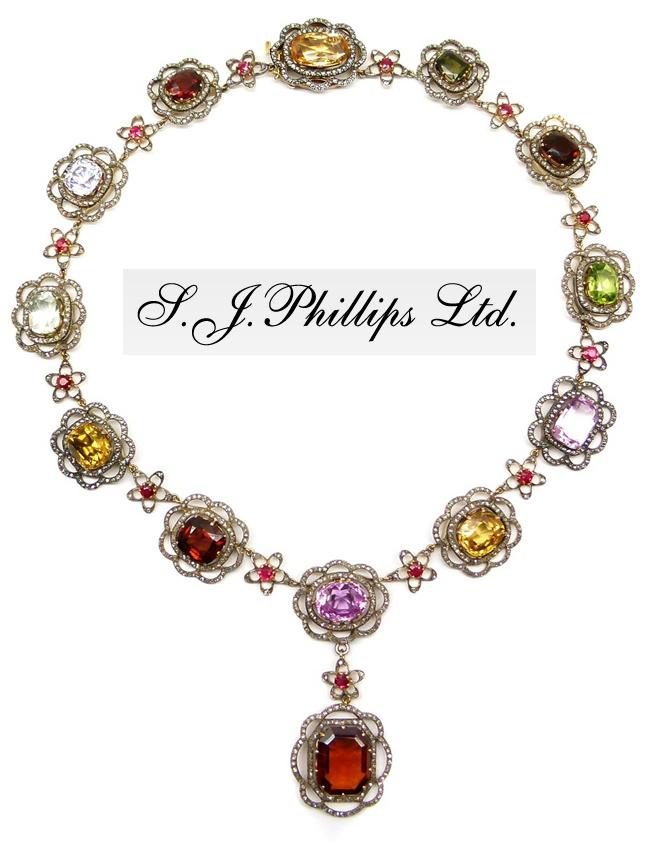 London-based S.J. Phillips is one of the better websites I've seen dealing in antique and estate jewelry. Very, very nice pieces.
---


Site specializing in corundum of various colors and phenomena, as well
as other colored gems like chrysoberyl, spinel, diamond, emerald, etc.
---

Tanzanite Jewelry Designs. Some really nice pieces! I like the tsavorite garnet/tanzanite combinations.
---

Talisman Jewelers (Above two images. The sapphire is an unheated Madagascan stone.)
311 SW Madison Avenue, Corvallis, Oregon 97333 (The store closed in 2011 but their designs are still being created by their parent store Olufson Designs several blocks away)
Great store! Many pieces my mom owns came from this shop. Gold, platinum, colored stones, pearls,
jade, etc. Not only do they carry mokume gane pieces but the shop is also one of just four
Eightstar Diamond dealers in Oregon (the other three are in Bend, Portland and Ashland). Eightstar a
California company that produces extremely well-cut round brilliants. Be sure to see the multi-colored sapphire
jewelry. Ask about colored diamonds, too, because they've had them in the past. Very interesting stones.
Friendly staff, and well lit. Laser welding available.
---


The United States Faceters Guild
---
Walsh Brothers Watches & Jewellery
---
Silver Chains, Silver Rings, Silver Jewelry
Guide to silver jewelry online. Silver chains, silver rings, sterling silver charms, sterling silver bracelets, silver necklaces, handcrafted silver jewelry.
---

Online providers of diamond engagement rings and wedding rings, create your own
stunning engagement ring online. Custom-made diamond jewellery services also available.
---