The American Golden Topaz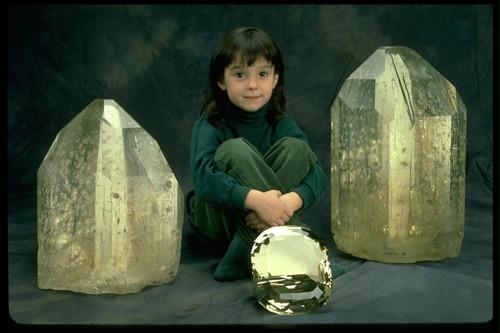 A faceted topaz weighing 22,892.50 carats, making it the largest cut yellow topaz in the world, as well as one of the largest faceted gems in the world, period. On the left side in the above photo is the Lindsay Uncut Topaz, weighing 70 lbs, and the one on the right is the Freeman Uncut Topaz, weighng 111 lbs. All three stones are part of the Smithsonian Museum's collection.

A photo of the American Golden Topaz in its display
case. The sphere right along side it is the Golden
Topaz Sphere, which weighs 12,555 carats.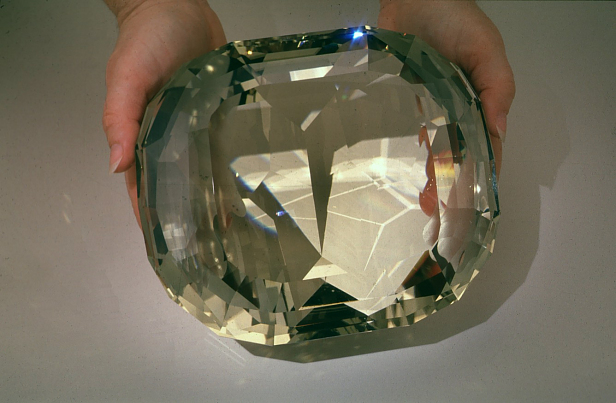 The stone being held for this photo, to show scale. :)
Sometime in 1999 a rumor began circulating that the table facet of the American Golden Topaz had been scratched. I had personally heard the rumor from some one at a gem show, didn't believe it, and forgot about it. When I began researching the American Golden Topaz for this website, the story came up. A letter written by Jeffrey E. Post, curator of the National Gem & Mineral Collection to Nancy Ballard, Editor of The Rockhounder (the newsletter of a club in Maryland) dispells the rumor:
Dear Ms. Ballard:
As I was reading your February issue, I was most amazed by the short article from "Gem Cutters News" describing deep gouges on the table of the American Golden Topaz. The article is totally untrue! The topaz is currently on display in our newly opened Gem Gallery and is as pristine as when it was given to us. There are no gouges of any kind on the stone, and consequently we certainly have not contacted any faceters about working on the gem. I have no idea where, or with who this fabricated story originated, but I would be grateful for your assistance in passing on the word that the American Golden Topaz is as magnificent as ever and survived its many journeys to shows around the country unscathed. I know that it is impossible to check every story that might be of interest to your readers, but for any that pertain to the Smithsonian Collection, I will always be happy to confirm the information and/or answer any questions you might have.
Best Regards, Jeffrey E. Post, Curator, National Gem and Mineral Collection
BACK