Alot of people say there is nothing but junk on Ebay, but I disagree. Some of the largest and most unusual diamonds I've seen for sale on the internet were on Ebay.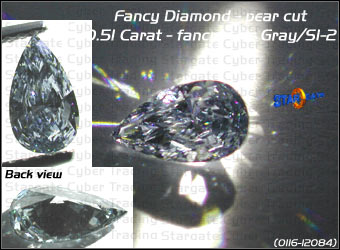 This fancy blue-gray diamond was up for bids starting at $19,514.47.
The stone is only 0.51 carats, but since its color is natural blue, this
makes it MUCH more valuable than an irradiated blue diamond of the same size.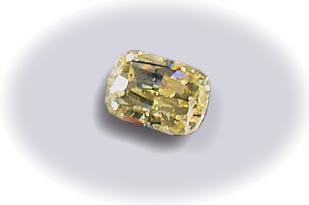 The second largest diamond I have ever seen on Ebay. This fancy yellow diamond had a relatively vague description as follows: "The Monea 124-carat fancy yellow rough diamond has been fashioned into seven beautiful gem quality diamonds, the largest being this 52-carat intense fancy canary yellow radiant cut fit for your lovely wife, head of state, investor, collector or Queen of Lesotho. Name this diamond after your sweetheart the way Richard Burton did for his lovely wife Liz Taylor. The origin of this rough diamond was South Africa. It has been fashioned into this intense fancy yellow diamond by master diamond cutter Walter V. in Antwerp, Belgium... this gem took 9 months to cut ....we will fly the winner of this bid to Antwerp, Belgium to meet the master diamond cutters and to recieve his or her gem. A fantastic weekend trip on us. So lets get the bidding started at $1.2 million. 'Diamond dealers and millionaires welcome.' 100% satisfaction. All money returned within 7 days if not satisfied." Unfortunately, the seller does not list the clarity of the stone, or a GIA certificate. The stone is radiant cut with a cushion-shaped outline. They did indeed want $1.2 million for the opening bid.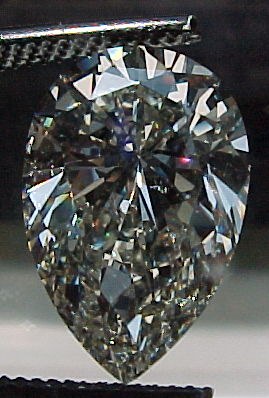 This 4.12-carat pear shaped stone Diamonds By Lauren had up at auction,
starting at $17,000. K-color, SI1 clarity and no fluorescence. Diamonds
by Lauren and Stargate Gems are two of my favorite diamond dealers on
Ebay -- they always have something interesting to look at.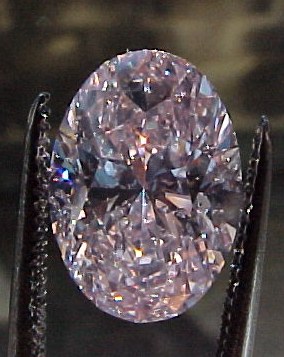 Diamonds By Lauren has had this stone up for auction for about a year
I believe. They want $50,000 for the opening bid. It remains the one of the finest
pink diamonds I have seen on Ebay, with pink color you can actually SEE,
and has a weight of 1.51 carats. The clarity is SI-2.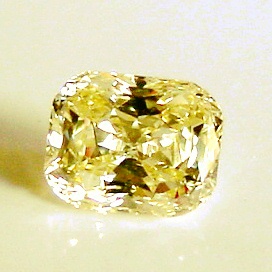 A fancy yellow cushion shaped diamond weighing 2 carats. The seller says
"VVS quality", so I am not sure how close that is. Cushion shaped diamonds
are unsual in this modern age. They aren't seen in jewelry very often. Wholesale Diamonds & Gems wants $8,200 for the opening bid.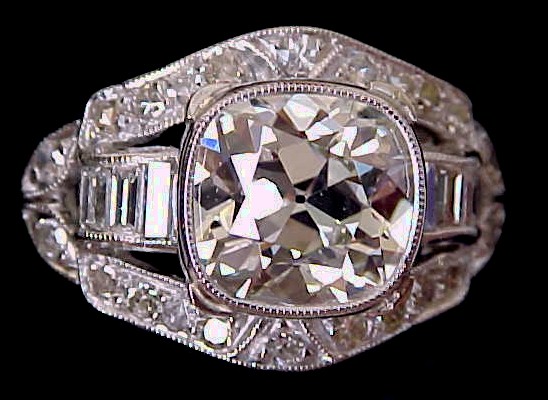 A good size Old Mine Cut! Weighing 2.60 carats, VS1 clarity and J/K color. The setting is platinum,
and unique because the stone is bezel-set and not prong-set. It reminds me of the Regent Diamond.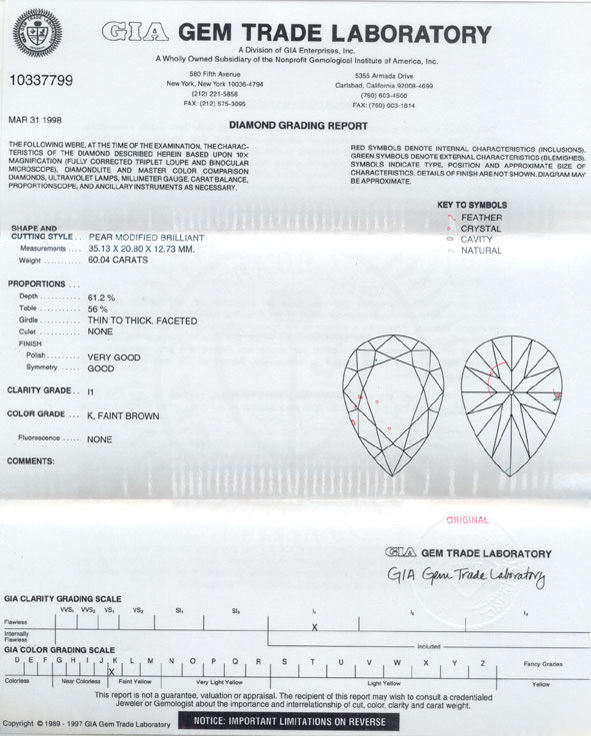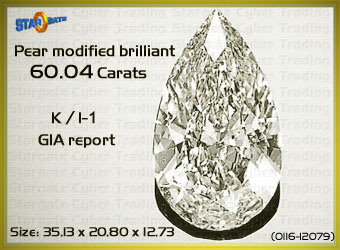 The second largest diamond ever up for sale on Ebay. I have seen it up for auction
a number of times over the past year or two. The seller wants an opening bid
of $1 million. Here is the stone's website.

A 9.78-carat, D-color, VS-2 clarity pear shape. No fluorescence. The stone seems almost triangular, like a spear or arrowhead.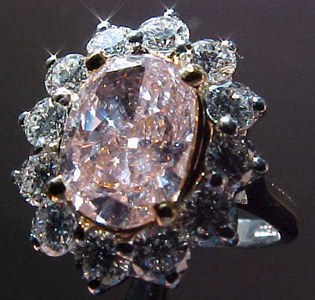 A natural Fancy Orangey-Pink diamond, offered by Diamonds By Lauren on Ebay.
The stone weighs 1.49 carats. "I don't notice any orange- but the GIA color
origin report indicates as Fancy Orangey-Pink. The GIA certificate is for color,
measurements, and shape. The clarity is not listed on this type of certificate.
In this case, the oval diamond is SI2." The diamonds surrounding the pink
oval are F-G in color (basically colorless), VS in clarity, and premium cut.
Diamonds by Lauren wants $40,000 for the opening bid. Unusual colors like this
will always boost a stone's price significantly, even if the stone isn't very large.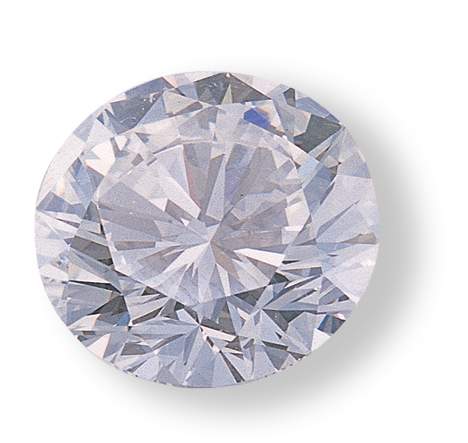 This 16.29-carat round diamond appeared on Ebay in April of 2002.
Its clarity was IF (Internally Flawless) and its color was G (near
colorless). The stone measured 16.36 × 16.57 × 9.95 mm, and had a
fluorescence grade of Medium Blue. The polish and symmetry were both
graded as Very Good. The seller wanted $380,000 for the opening bid,
and said the stone was appraised at $510,000.

A pair of natural Fancy Intense Brownish-Orange diamonds offered
on Ebay in May, 2002, by seller rottierick. The stones were
graded as having VS-2 clarity, a weight of 0.63 carats, and a cut grade
of Good. The seller wanted $1899 for the opening bid, but had the
Buy It Now option for $2599.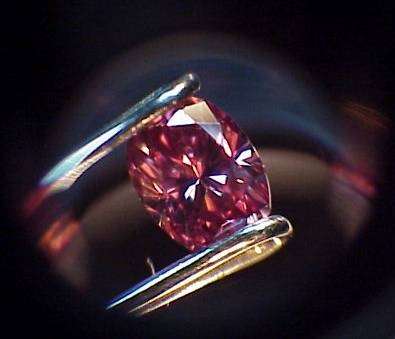 A very unusual Fancy Purplish-Red diamond weighing 0.34 carats. This stone appeared on Ebay in May of 2002. Bidding started at $1000. When I saw the auction, it had 11 bids and was up to $4150. Here is what the seller had to say about it: "Most people have never seen a Natural Red Diamond, most diamond dealers have never seen a red diamond. In fact their occurrence in nature is so rare that a leading specialist in the field of Colored Diamonds from the Geological Laboratory of America recently told me that GIA has issued certificates for red Diamonds less than 24 times, and of the 24 known to exist, over half of those certed weigh less than ½ of a carat in weight. This diamond is a gorgeous color, with a GIA certificate stating that the diamond is a Fancy Purplish Red, 0.34 carats, Oval Shape, color of origin Natural. If you are looking for the truly unique, and rarest of the rare in diamonds, this is it, it is quality not quantity. If you want a Red Diamond the worlds truly rarest gem specimen, This is an authentic collectors item, rarest of rare, very exotic hard to find piece. Natural Color, Natural Diamond." One of the most famous red diamonds is the Hancock Red Diamond, a stone that sold at auction in the late-1980's for $880,000 — and weighed only 0.95 carats. That comes to about $926,000 per-carat.

In June of 2002, this 10.97-carat Asscher cut diamond appeared on Ebay. The seller wanted $100,000 for the opening bid. The stone's clarity was VS-2 and the color grade was "N", slightly yellow. :) Here is what they had to say about it: The ring's value was stated to be $500,000 on NBC's The Today Show prior to the Oscars. This exaggerated price was for shock value, and there are certainly some stores that might try to sell the ring at that inflated price. At Mednikow, this ring would sell for a fair price of $125,000.
Celebrity Quotient: Stockard Channing, in character as the First Lady on the hit show The West Wing wore this exact ring to her character's birthday party in a recent episode. This same ring also traveled to the 2002 Oscars, adorning the finger of Sharon Stone. More recently, Jane Fonda has worn this ring to recent GCAPP (Georgia Campaign for Adolescent Pregnancy Prevention) events.
With the current resurgence in popularity of things antique, the Royal Asscher has been seen quite often in the recent past on the fingers and ears of celebrities and fashion-forward people. Sarah Jessica Parker received a Royal Asscher diamond as an engagement ring on the hit TV show Sex in the City, the Asscher cut is also the engagement ring choice of Kate Hudson, Courtney Thorne-Smith and Reese Witherspoon.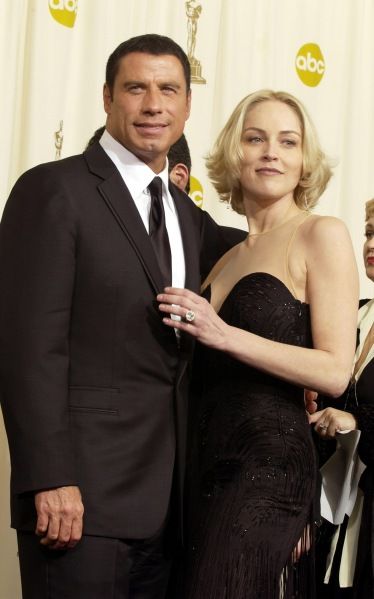 John Travolta and Sharon Stone (wearing the ring) at the 2002 Academy Awards.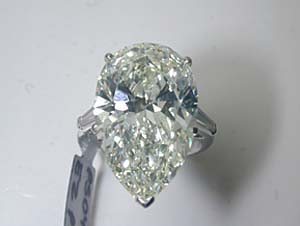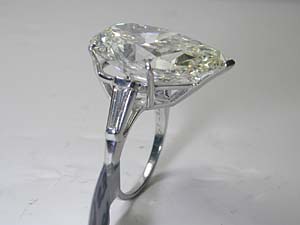 A platinum pear-shaped diamond ring from jewelry47. The center stone weighs 14.60 carats, is M-color, VS1 clarity. The baguettes on the side weigh 0.35 carats each, making a total of 15.30 carats for the whole ring. Jewelry47 says the ring was appraised at $250,000. They want $127,000 for the opening bid. Jewelry47 seems to be pretty new, or at least I haven't been seeing their stuff on Ebay till recently. They carry some of the largest diamonds on the site.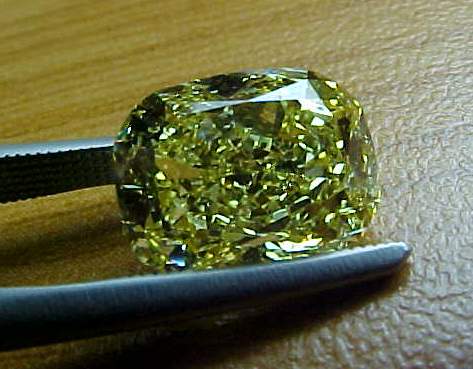 This 2.81-carat cushion modified brilliant was offered by Diamonds by Lauren on Ebay on October 16th, 2002, bidding to start at $17,000. By the 22nd, when I saw it, it had one bid and was up to $21,500. This is a beautiful stone. I wish more sellers on Ebay offered cushion shaped diamonds. This diamond was graded as Fancy Intense Yellow, VS2 clarity, Polish and Symmetry both graded as Good. Under the Comments section of the GIA certificate it said "Crown angles are greater than 40 degrees." This is fairly steep. Nonetheless it doesn't affect the stone's appearence.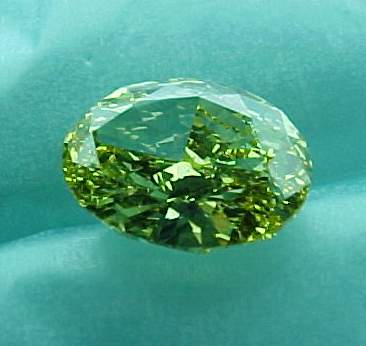 An SI-2, Fancy Vivid Yellow oval diamond from Diamonds By Lauren. They wanted $28,000 for the opening bid. I just noticed I never listed the weight of this stone when I originally added it to this site...probably over 1.50 carats, though. :)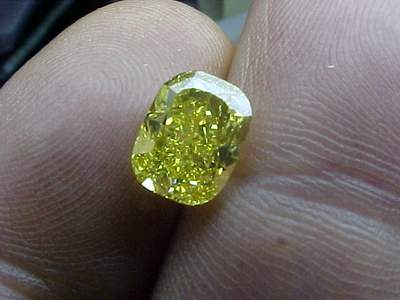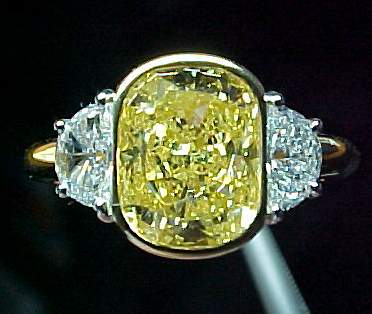 A 2.49-carat cushion-shaped Fancy Vivid Yellow, VS1 clarity diamond offered by Diamonds by Lauren. The ring shown is platinum and 18K yellow gold. Diamonds by L. wants $30,000 for the opening bid.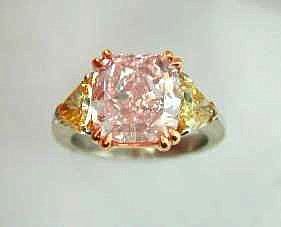 This 5.36-carat Fancy Pink cushion appeared on Ebay on December 27th, 2002. The seller wanted $460,000 for the opening bid. The stone has a clarity of SI1. Although in the photo their color appears more saturated, the side trilliant cut diamonds are actually Fancy Yellow. The diamond's cut is uncommon to say the least - a cushion shape with a step-cut crown and brilliant-cut pavilion. The result is, for lack of better description, a radiant cut with a cushion outline. When I saw the GIA sheet, above, I was surprised at how simple the design was, with 17 facets on the crown and 28 on the pavilion. The Pumpkin Diamond, a famous Fancy Vivid Orange diamond owned by Harry Winston, is said to be cut in this same style. This is one of the finest pink diamond's I've seen appear on Ebay. Sometime in mid-2002 I saw an orangey-pink cushion weighing about 22 carats on Ebay, listed as being Internally Flawless. I don't think this section of my website was opened yet or I would have posted a photo of the diamond here. Another thing I remember was the seller wanted what I thought was a low figure for the opening bid, being around $1 million. The seller and I conversed through email several times about the diamond, and I suggested he try to contact Sothebys or Christies auction houses, or Robert Mouawad, if the diamond didn't sell on Ebay.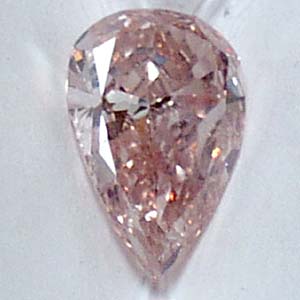 A 1.99-carat Fancy Orangy-Pink pear shape. This diamond appeared on Ebay on February 7th, 2003. The seller, trbian, wanted $35,000 for the opening bid. There was also a GIA certificate listed in the auction, but it was for color only. The stone measures 11.43 × 7.14 × 3.78 mm.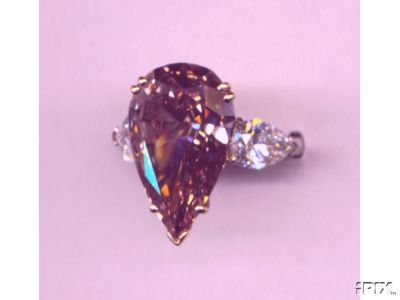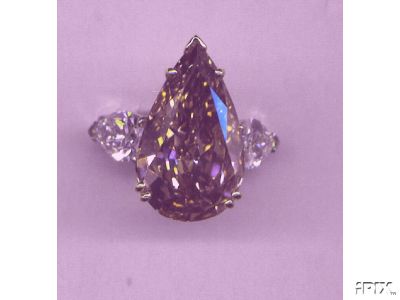 A pear-shaped Fancy Deep Brown-Pink diamond weighing 9.44 carats, set in a ring. The stone is HPHT processed. The ring was offered by fortunejewelry18. They want $74,000 for the opening bid, and even though when I saw the auction it said there were zero bids so far, there was also a note that said it was a private auction and that the bidder's identity was protected. This is the stone's GIA certificate. It mentions the HPHT processing.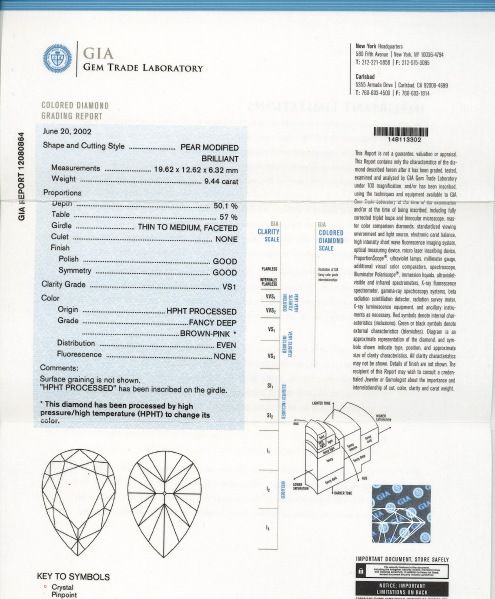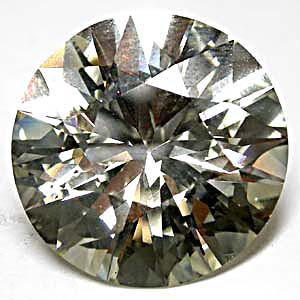 A 31.04-carat S to T-color, VS2 round brilliant that appeared on Ebay on May 1st, 2003. The seller had it set at the Buy It Now option only. They wanted $212,500 for it. There was an interesting note on the GIA certificate about the stone's crown...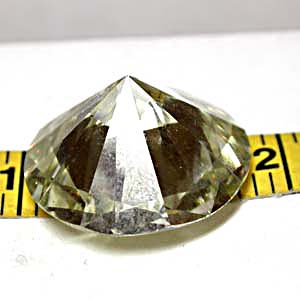 The stone seems too have fingerprints or something on it.

The GIA certificate for the stone.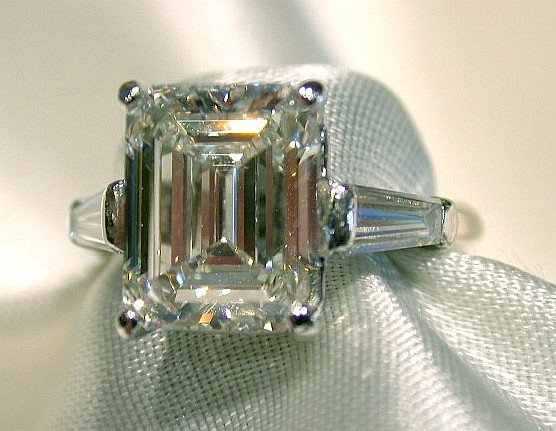 This stone appeared on Ebay in June of 2003, offered by seller aanti31565@aol.com. It sold! The ending bid was $52,000. The diamond is G-color, VVS2 clarity, polish was graded as Very Good and symmetry as Good. No fluorescence. The ring the stone is set in is 14K white gold and has an expanding shank. The stone measures 10.28 × 8.19 × 5.13 mm.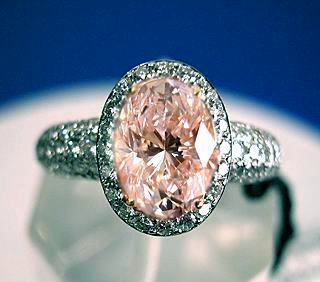 This 2.21-carat diamond appeared on Ebay on June 30th, 2003. The seller, ucdealshere, wanted $58,000 for the opening bid. The stone is actually Light Pink, not quite Fancy Light Pink, even though it appears more saturated.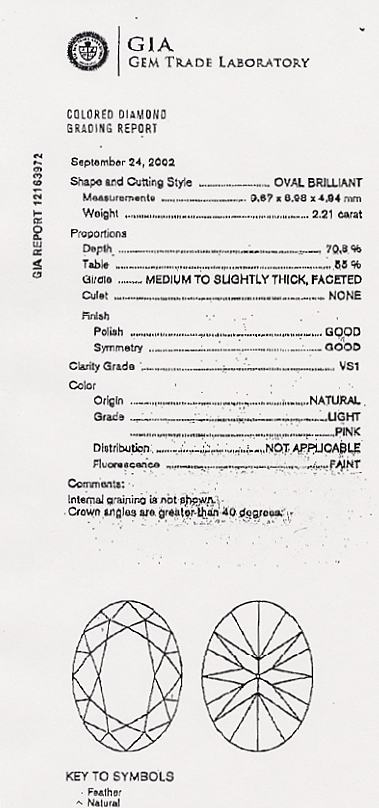 The GIA certificate for the stone.


The certificate says the crown angles of the stone are greater than 40 degrees, which is noticable in this photo -- the stone really stands up. The ring itself is is 10.7 grams of platinum and is bedecked with 160 diamonds with a total carat weight of 1.59 carats, the seller stating that the mounting alone is worth $5000. Pink diamonds are rare. I find myself wondering if some of the ones I've seen on Ebay, like this one, are from the Argyle Mine in Australia?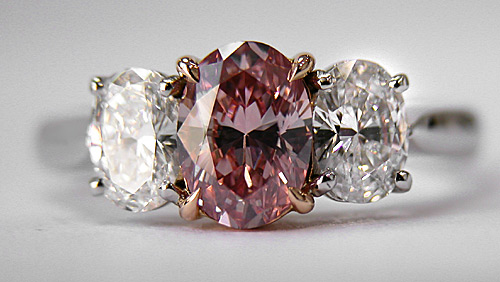 This Fancy Intense Pink diamond appeared on Ebay on July 18th, 2003, offered by Ucdealshere. The stone weighs 0.89 carats and Good grades for both Polish and Symmetry, VS1 clarity, Medium Blue fluorescence and even color distribution. The side oval brilliants total 0.74 carats and are VS1, E-color. This is a beautiful ring, in my opinion. The center stone seems deeper in saturation than just Fancy Intense, more like Fancy Vivid or Fancy Vivid Purplish-Pink. The seller wanted $72,000 for the opening bid.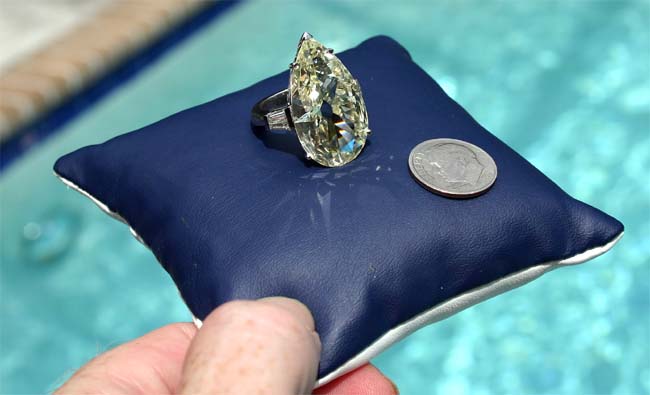 A light yellow pear-shaped stellar brilliant cut weighing 15.23 carats, offered by seller Curtis J Tanney in late-September of 2003. A good photo to show scale, with a dime and a thumb. :) The seller wanted $65,000 for the opening bid, no reserve. Not sure what the color and clarity grades are. The auction heading was appropriately and accurately titled "Natural Cape Old Miners 15.23 ct Diamond Ring". This stone was cut long ago, probably between 1870 and 1900.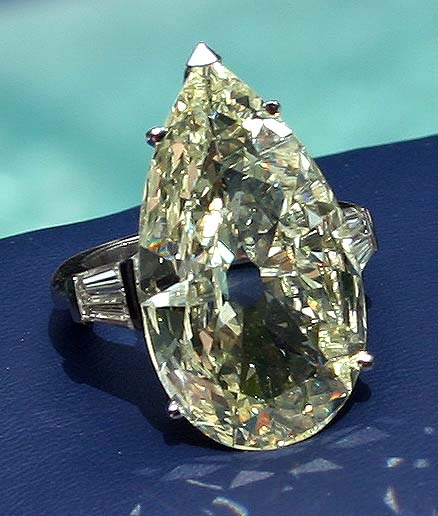 A close-up of the ring. This is the photo that drove me to ask the seller if the stone was a stellar brilliant, he replied that indeed it was. If you look closely, you can see the triangular stellar facets pointing outward from the culet facet.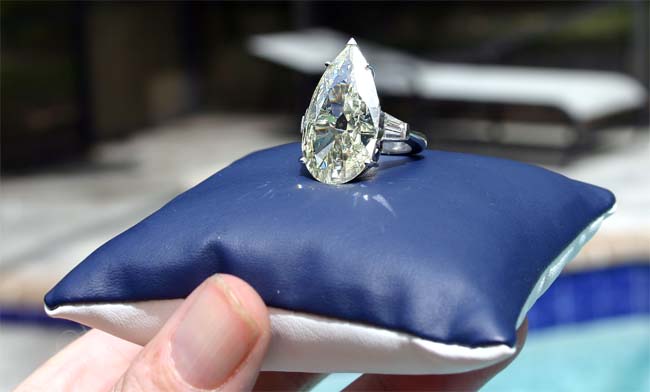 I'd wear this diamond, It has a lot of character, but I'd reset it in a ring with seven prongs plus a small 'lip' covering the curved end of the stone. In its present setting, that part of the diamond is exposed. This is one of the more unusual large diamonds I've seen on Ebay. I am guessing the color is around N-O-P or so. If it were a smaller stone it would look somewhat less yellow.



A diamond weighing 5.66 carats graded by GIA as Fancy Light Pink, VS2 clarity. The seller, diamondareforever, wanted $545,000 for the opening bid and said that it had been appraised for $1,360,000. The stone's depth is 47.6% and the table is 66%. The stone was listed as having no bids, but at the same time it said "High Bidder: User ID kept private".

BACK