The Gordon Star Sapphire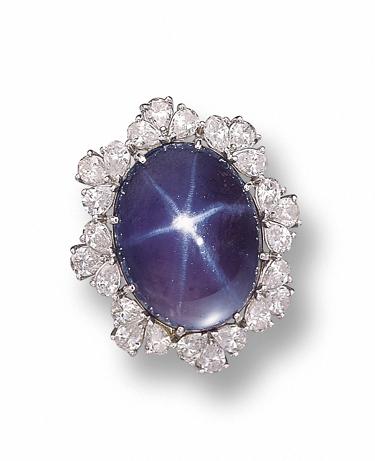 A star sapphire pendant-ring that came up for auction at Sothebys Auction House in April, 2002. This is what they had to say about it:
The oval-shaped star sapphire cabochon weighing approximately 52.00 carats, framed by 24 pear-shaped diamonds weighing approximately 6.60 carats, mounted in platinum, ring shank detachable, retractable pendant loop. Estimate: $70,000 to $90,000
Aron S. Gordon (1911-2001) A native of Houston, Aron Gordon attended the University of Texas and later worked for the family business, Gordon's Jewelers, founded by his father in 1905. During World War II, he joined the United States Navy and was stationed in Pearl Harbor where he served as an officer on the staff of Admiral Chester Nimitz. After the war, he returned home to resume his position in the family business. In 1989, when the company was sold, Aron Gordon was Co-Chairman of the Board. By that time, the Gordon Jewelry Corporation, with over 600 stores, had become the second largest retail jeweler in the country and was listed on the New York Stock Exchange.
Aron Gordon and his wife Anaruth were avid collectors and traveled extensively from the late 1940s to 1989. They both served on the Board of Trustees of The Museum of Fine Arts in Houston. In addition, Aron Gordon served on many boards as Director or Trustee, including the Jewelers of America, the Jewelry Industry Council, the Houston Symphony, and the National Jewish Hospital in Denver. In 1993, Aron Gordon was elected into the Texas Business Hall of Fame. Both Aron and Anaruth had been honored by St. Joseph's Hospital Foundation and the Houston Youth Symphony & Ballet as Cultural Leader of the Year. Anaruth Gordon passed away in 1995.
BACK