The Mackay Emerald Necklace

photo © Chip Clark
The stunning 167.97-carat Mackay Emerald was mined in Muzo, Colombia. The largest cut emerald in the National Gem Collection, it is set in an Art Deco diamond and platinum necklace designed by Cartier Inc. In 1931, Clarence H. Mackay presented the necklace as a wedding gift to his wife, Anna Case, a prima donna of the New York Metropolitan Opera from 1909 to 1920. The piece was donated to the Smithsonian Institute by Mrs. Anna Case Mackay in 1984. Source: The National Gem Collection by Jeffrey E. Post.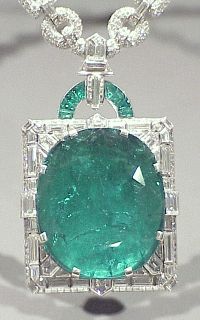 The Mackay Emerald Necklace makes an appearance at the 2001 Tucson
Gem & Mineral Show. It was displayed in its own dedicated case and
diligently guarded by its own dedicated Tucson police officer.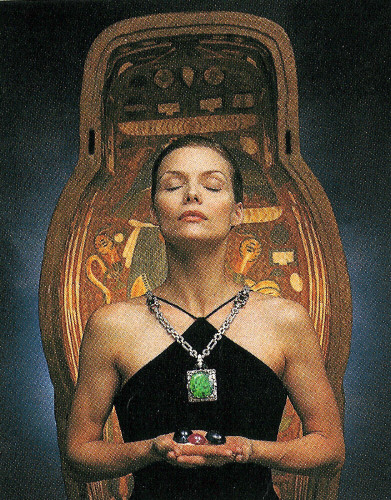 Actress Michelle Pfeiffer wearing the Mackay Emerald Necklace and holds the Star of Asia, the Star of Bombay and the Rosser Reeves Star Ruby.

BACK