The Mouna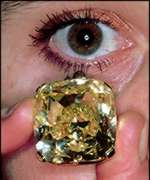 The Mouna Diamond weighs 112.53 carats and is VS1 clarity. When it was submitted to the Gemological Institute of America on November 9th, 1995, they stated that up until this date it was the largest Fancy Intense Yellow diamond that they had ever graded. The cushion-shaped stone is 26 mm in diameter set in a baguette-cut mount by Bulgari, which with it the diamond has a height of 36 mm. It was sold by Christie's in Geneva on November 16th, 1998, lot 161, and fetched $3,258,000 (about $28,773 per carat).
Michael Hing, a gemologist in Great Britain, told me about this stone. I think I had already heard a murmur about it here and there, but just the name, not a description or photo. Mr. Hing personally handled the stone at an exhibition in Paris around 2000. Here is what he had to say about it:
"The Mouna was the largest Fancy Intense Yellow diamond at one time: I'm not sure if it still is, the GIA certificate was issued a few years ago. It was owned by Mouna Ayoub. Her former husband must be a man of some considerable wealth: apparently she once told him that she enjoyed jogging, and the next day a team of workmen began building her a running track around the perimeter of their estate in Saudi Arabia. The gem was part of her divorce settlement - along with a rather impressive collection of other items. It was sold at auction (Christie's), I believe in 1996. It's a lovely stone. Very, very well-cut indeed. We put it next to the Tiffany: not only is it a few carats bigger looking, the colour was also noticeably better. It was set in a Bulgari pendant: extremely good-quality jewelry work. Unfortunately, we didn't get the matching necklace (also very impressive, judging from the photos)."
BACK