The Porges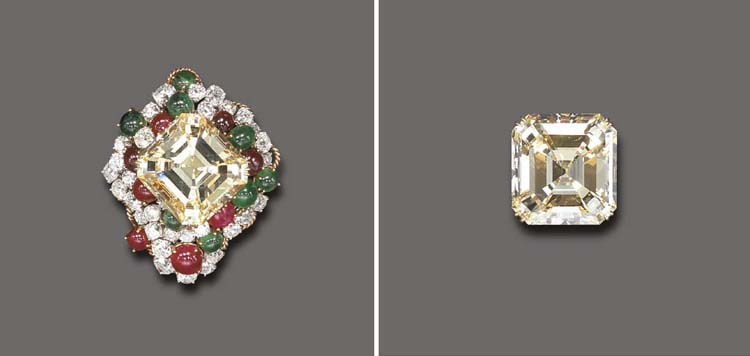 photos © Christies
The Porges Diamond is a Fancy Yellow diamond weighing 78.53 carats and was bought by Harry Winston in 1962 who named it, as a tribute to the French diamond mining pioneer, Jules Porges. Winston mounted the stone so that it may be worn either as a brooch, within a frame set with cabochon-cut emeralds and rubies or as a single stone, set within a simple ring mount. The current owner purchased it from Harry Winston directly in 1968 and as record books indicate, the whereabouts were unknown until now.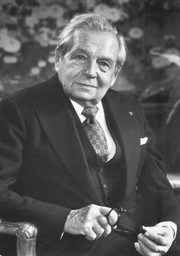 Harry Winston
Jules Porges (1839-1921), descended from a prominent Austro-Hungarian family, was born in Vienna and was raised in Prague, where his father was a master jeweler. By the 1860s he had settled in Paris where he quickly established himself as a principal force in the diamond trade and founded Jules Porges & Company. Just outside Paris, he built a spectacular château in Rochefort-en-Yvelines for his wife and daughter and his residence in Paris was located on the Avenue Montaigne, where he housed an important art collection, focusing on Dutch masters such as Hals and van Dyck. By the time diamonds were discovered in South Africa, he had amassed a tremendous fortune and was considered the leading diamond merchant in the world. Quickly realizing the potential of these newly discovered mines, he dispatched Alfred Beit and Julius Wernher in 1873 to act as his representatives in this new venture and in 1876, Porges himself arrived in Kimberley, playing the unusual role as both consumer and producer of diamonds. Although he had invested in the mining rights of the four major mines (De Beers, Bultfontein, Dutoitspan, and Kimberley), by 1879 he was almost completely focused on Kimberley and had become a close associate of Cecil Rhodes. Rhodes eventually convinced the French investors to sell their shares to the newly formed De Beers firm. Jules Porges quietly retired in 1890.
AM DIAMONDS! STOP STEALING MY STUFF!
The Porges is an Asscher-cut Fancy Yellow diamond, SI1 clarity, and it figured as Christie's Magnificent Jewels sale (sale 1362) of April 19th and 20th, 2004. It figured as lot 473 in Sale 1362, with an estimate of $600,000 to $800,000 US. The brooch in the photo, created by Harry Winston, is set with Old Mine and Old European cut diamonds in a freeform design around the Porges itself. These are enhanced by scattered cabochon-cut rubies and emerald with a total approximate weight of 23.90 and 15.00 carats, respectively. They are mounted in platinum and yellow gold. According to the text of the auction the piece is accompanied by a gold ring mounting and a screwdriver to transfer the Porges Diamond back and forth. Also included was a Harry Winston black suede case. The lot ultimately sold for $769,100 (£423,005 UK).
BACK