An Unnamed 27.25-carat Fancy Dark Yellowish-Brown Diamond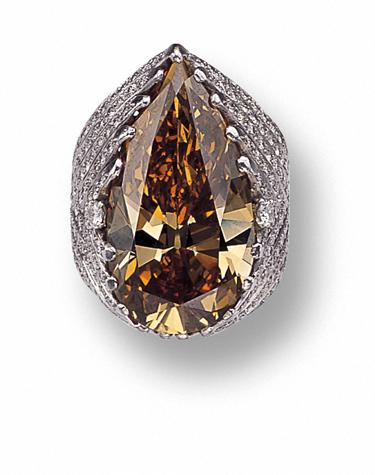 This stone has no name as of yet, but I consider it substantial enough to be featured on my page. It came up for auction, along with the ring it is set in, at Sotheby's on April 25th, 2002 in their Magnificent Jewels sale. It was lot #288. Here is their desciption:
The pear-shaped fancy to Fancy Dark Yellow-Brown diamond weighing approximately 27.25 carats, within an openwork platinum mounting accented with 186 small round diamonds weighing approximately 3.80 carats.
Accompanied by GIA report no. 11859872 stating that the diamond is Fancy to Fancy Dark Yellow-Brown, Natural Color.
Estimate: $70,000 to $90,000.
The ring sold for $113,525 US.
The ring was featured on page 64 in The Power of Jewelry by Nancy Schiffer. Published by Schiffer Publishing Ltd. They enclosed at note at the front of the book that it may be purchased from the publisher. Their address is 1469 Morstein Road, West Chester, Pennsylvania 19380. Amazon.com also has the book. Here's the link.
BACK