The Victoria-Transvaal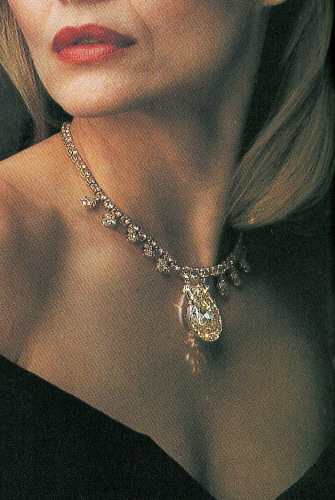 Actress Michelle Pfeiffer wearing the Victoria-Transvaal necklace.
The Victoria-Transvaal is a 67.89-carat, brownish-yellow pear shaped stone. It was cut from a 240-carat crystal that was found in the Transvaal, South Africa. The first cutting produced a 75-carat 116-facet stone that measured 1 x 1³/8 inches; a recutting retained the same length and width, but reduced the depth to better proportions, making it more brilliant. The diamond has been featured in several Hollywood films, including a Tarzan episode from 1952 titled Tarzan's Savage Fury, and in leading exhibitions in the United States and Canada.
The necklace was designed by Baumgold Brothers, Inc, and consists of a yellow gold chain with 66 round brilliant-cut diamonds, fringed with ten drop motifs, each set with two marquise-cut diamonds, a pear-shaped diamond, and a small round brilliant-cut diamond (the total weight of the 106 diamonds is about 45 carats). The necklace was donated by Leonard and Victoria Wilkinson in 1977 to the Smithsonian Institute, Washington D.C.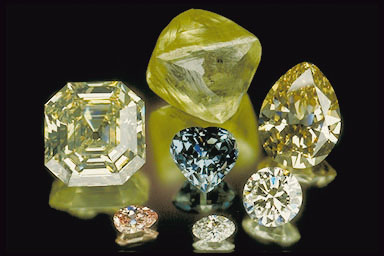 The Victoria-Transvaal Diamond amoung other notable diamonds in the Smithsonian's collection:
The Portuguese, the Pearson, the De Young Pink and the Eugenie Blue, an unnamed
oval-shaped diamond, and the yellow Oppenheimer Diamond Crystal in the back. Photo by Chip Clark.
Sources: Diamonds - Famous, Notable and Unique by GIA and The National Gem Collection by Jeffrey E. Post.
BACK